Recipe: Pear Ginger Muffins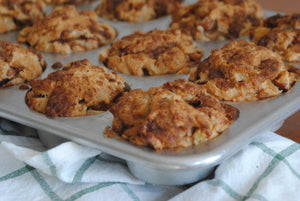 I baked up a batch of these muffins for the March knitting tea, and had the best of intentions to post this recipe directly afterwards. Life got in the way (as it sometimes does) and now we're closing in on the end of April  - better late than never, right?
A few years ago I had a really fun job building model sets for The Fruit Hunters, a documentary about fruit and the people who dedicate their lives to it. I learned a lot of random fruit facts (ask me someday about the origins of the Clementine or the Hass avocado), but one of the most useful tidbits was about pears.
It turns out that pears actually need to be picked green and ripen off the tree. That makes them a good fruit choice for this time of year, when we're past the best of the citrus and pomegranates and haven't quite gotten to fresh berries or summer fruits yet. It's not completely foolproof, but I've found that imported pears are much more likely to end up sweet and juicy than other fruits like nectarines or plums.
These muffins are a great way to use up pears if you find yourself with extra, or if they ripen a bit too much before you get to eating them. They also work well with apples if you don't happen to have pears around.
Ingredients
 2 cups chopped pears (or apples)
1/2 cup sugar
1 egg
1/3 cup oil (I usually use canola oil for baking)
1/2 cup yogurt
1/2 cup milk
1 1/2 cups all-purpose flour
1 cup whole wheat cake and pastry flour (all-purpose whole wheat works well too)
1 1/2 tsp baking powder
1 tsp ground ginger
1/2 tsp cinnamon
1/2 tsp salt
Topping (optional)
2 tsp melted butter
3 tbsp brown sugar
1/2 tsp ground ginger
Directions:
Pre-heat oven to 350° and grease muffin tins.
Beat together sugar, egg, and oil. Add yogurt and milk and blend well.
In a separate bowl mix flours, baking powder, ginger, cinnamon and salt. Add to wet ingredients and beat just until blended.
Fold in pears or apples. Spoon batter into muffin tins.
For optional topping, melt butter and stir in brown sugar and ginger until crumbly. Sprinkle over muffin batter.
Bake for 25-30 minutes, or until a toothpick inserted in the centre comes out clean.
Makes 12 large muffins.
muffins with optional crunchy topping, ready to go in the oven

The ginger flavour in these muffins is quite mild, you could add extra ground ginger or a tablespoon or so of freshly grated ginger root if you want to give them a bit more of a kick!
---
Leave a comment
---
Also in News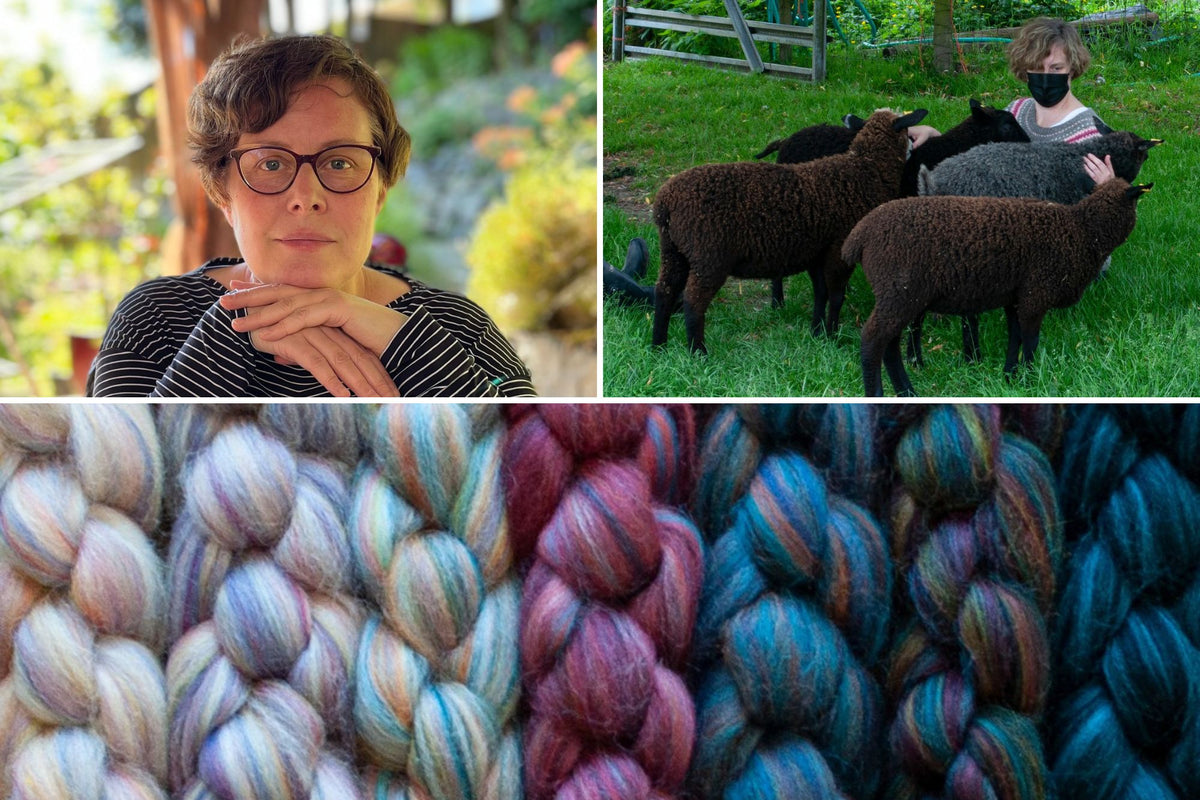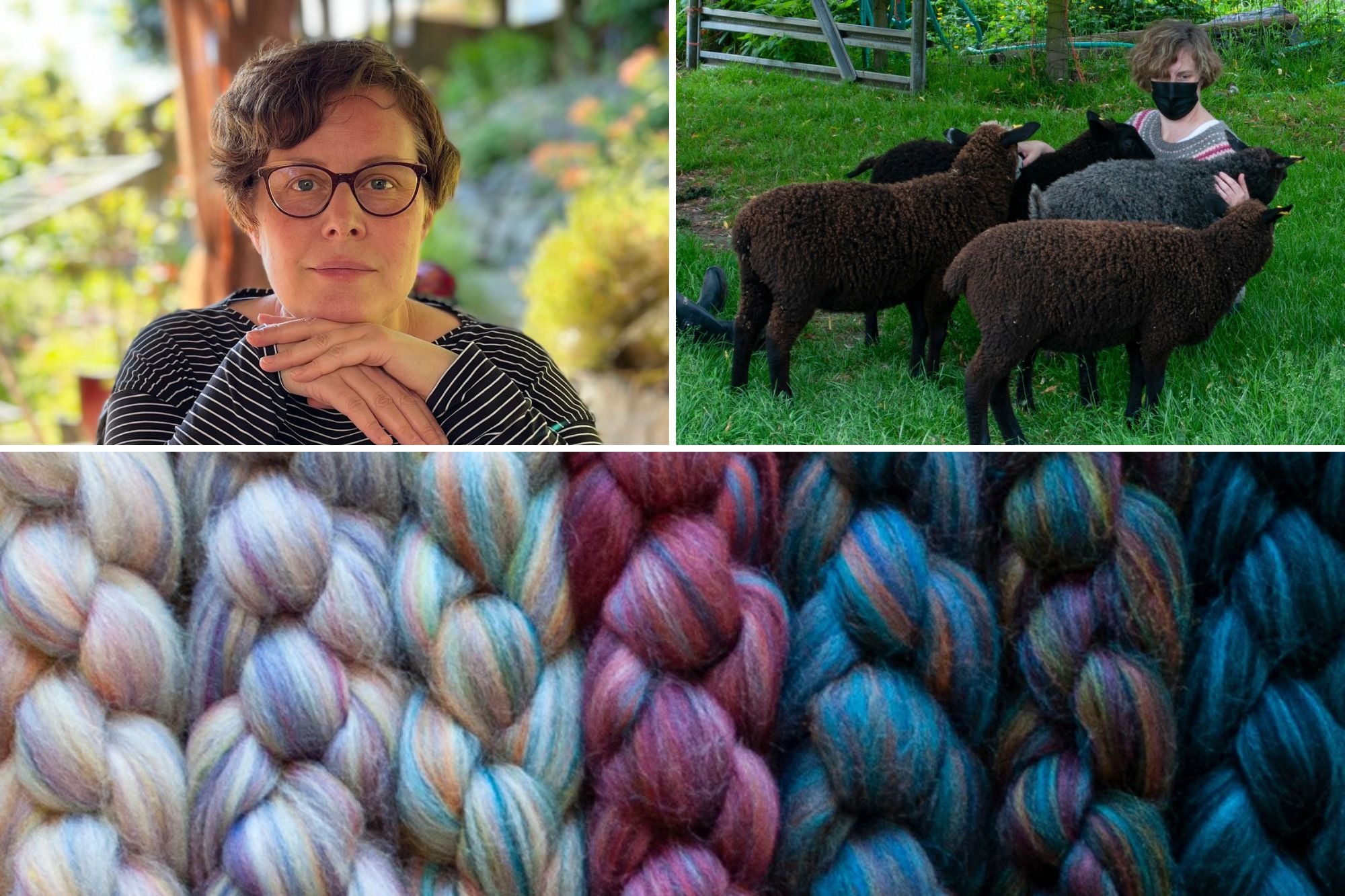 We first met Catherine Knutsson, our collaborator on the
Beyond Merino yarn club
, when she organized the Great Canadian Wool-Along last summer as a way to celebrate crafting with local materials and supporting Canadian wool farmers. We loved the concept of the wool-along, and jumped at the chance to connect with a community of Canadian wool-lovers.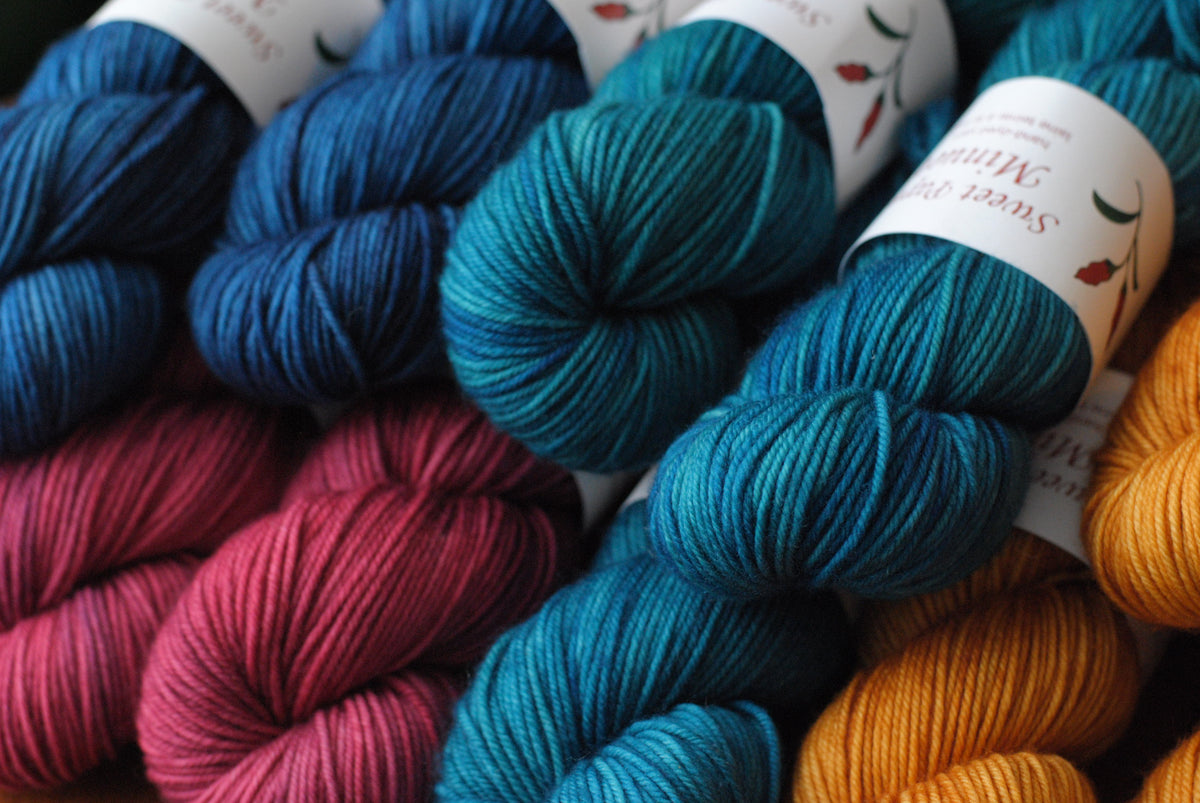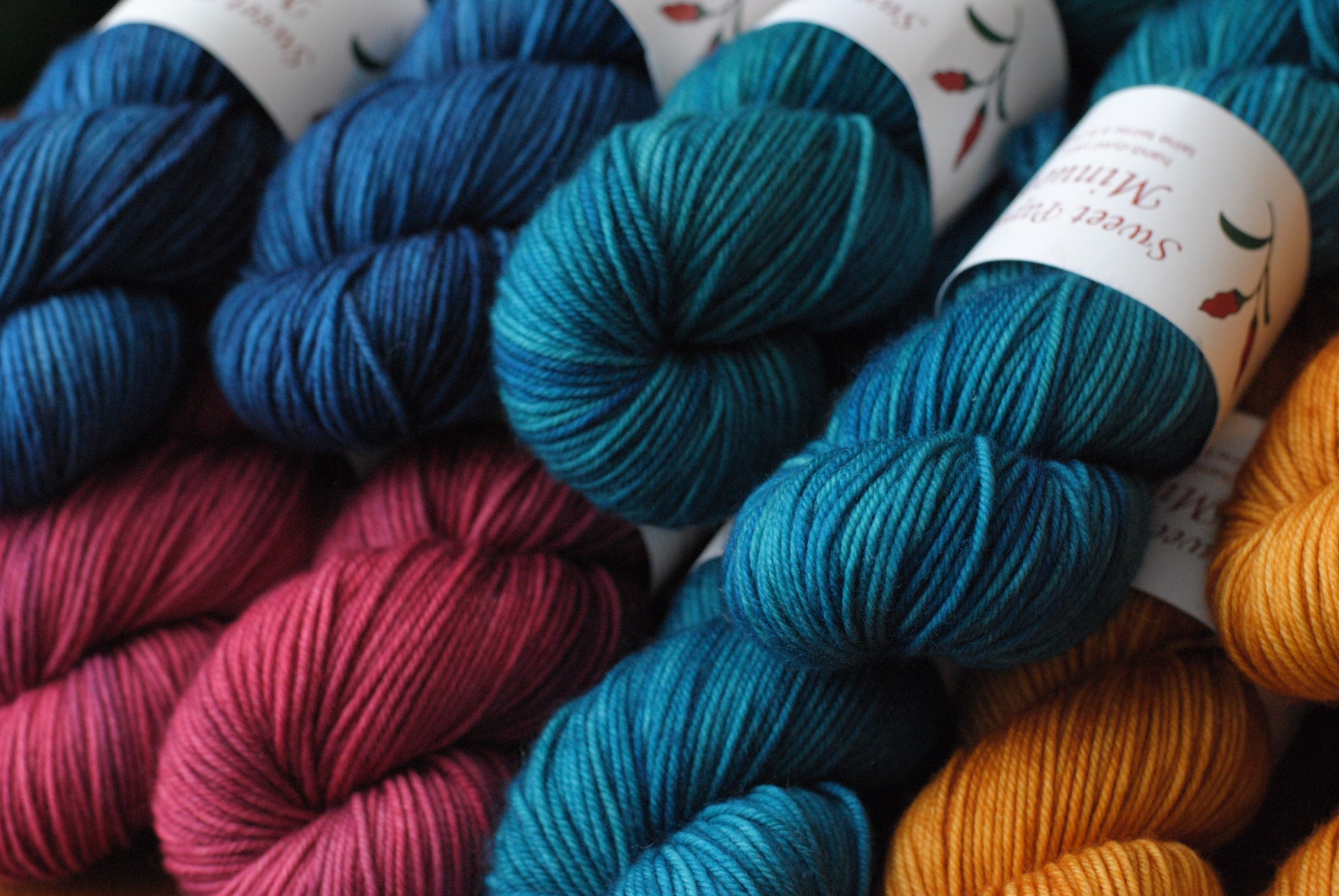 This year we're celebrating Sweet Paprika's 15th anniversary, and it's honestly been a bit hard to get my head around where the time has gone! We've been looking back through some of our old photos, and thought it would be fun to share a little retrospective here. Our little business has come a long way in the past 15 years!
Most of the images I'm including are not our polished product photos (although those have also come a long way since the early days), but more of a behind-the-scenes look at some of the memorable stepping stones along our journey.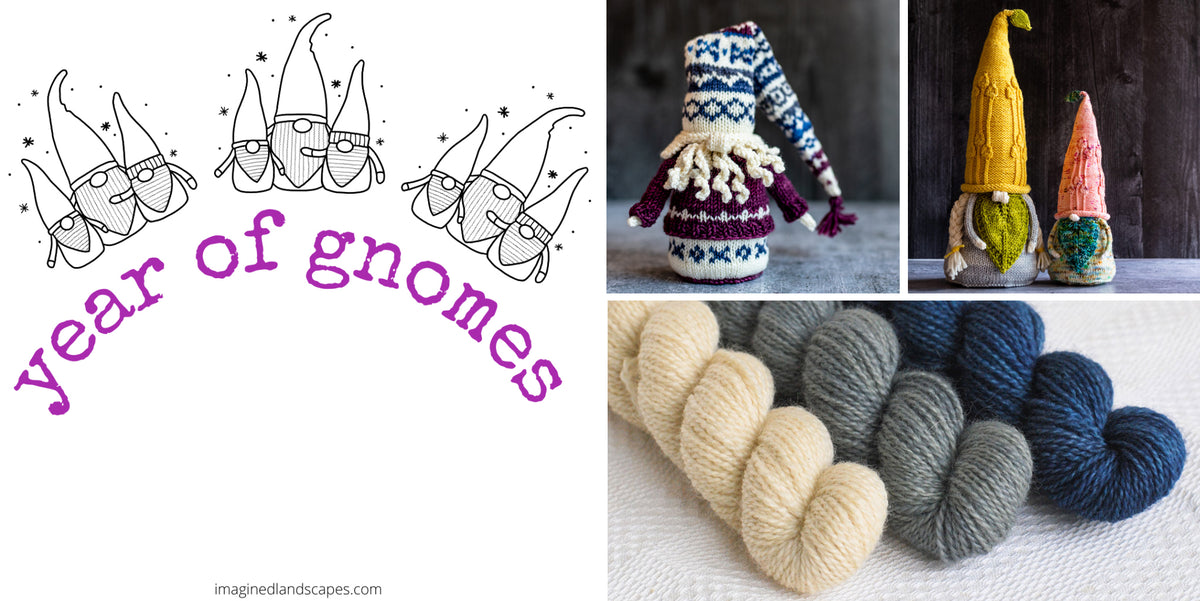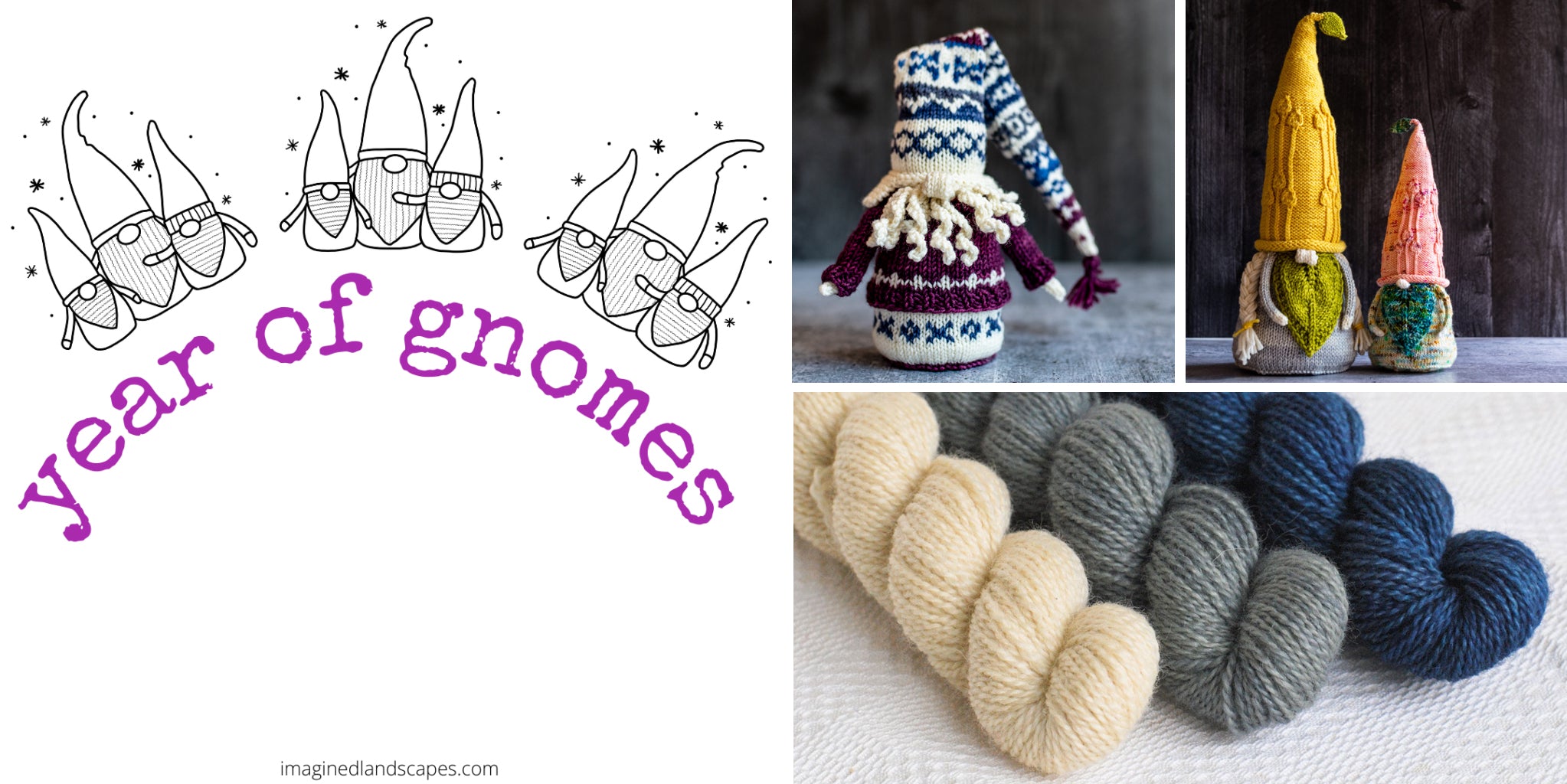 Last December, just as we were shutting down the dye studio for a holiday break, we got an email from one of our favourite customers telling us all about an upcoming event we might want to look into: the
Year of Gnomes Knit-Along
. We loved the idea, and couldn't resist joining in by dyeing up some mini-skein Gnome Sets for you to play with. We ordered in some special yarn as soon as we got back to work in January, and our
Gnome Sets
are now ready to head on out into the world!