Kith & Kin designer interview: Marie Godsey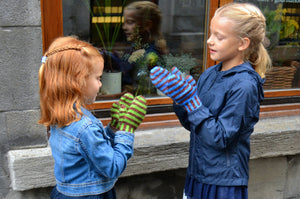 Marie Godsey from Long Island, NY is the designer of the Rue Le Moyne mittens from the Kith & Kin collection. I think these are a great stash-busting pattern and the perpendicular stripes on the cuff add a fun twist to the classic striped mitten.
Was there a specific inspiration for your mitten design?
For this call, I knew I wanted to do a striped mitten as soon as I read it. Although, a simple striped mitten didn't seem like enough, thus the vertical stripes on the cuff were added.
Did you have a point in the design process where things weren't going the way you wanted them to? What did you do to get past that?
Most of the issues were worked out during the prototype. My decreases for the top were just not working out, it turns out counting correctly is important when knitting.
Can you describe your favourite pair of mittens that you've ever owned?
Ever? I'm not sure I remember every pair but my current favorites are a pair of handspun alpaca with a cable running up the back of the hand. So warm and cozy.
Which type of needles do you usually use to knit mittens: double-pointed needles, two-circulars, magic loop…?
I'm not a magic looper. I use dpn for both mittens and socks. I notice that I knit at a tighter gauge with metal than wood though.
Is there a place that inspires you?

I'm from a rural area, (unfortunately transplanted into the suburbs) I grew up outside, swimming in ponds, riding quads and pulling piles of snow from freshly covered pine trees on to our heads. Most of my color inspiration comes from nature although most of my pieces are practical for outdoor use.

Fire Island Light House, Fire Island, Long Island, NY
What is the fall and winter weather like where you live? How many months of the year do you wear mittens or gloves?
Fall, my favorite, typically seems short while winter drags on forever. Fall begins around the middle of September but depending on the climate this year will only be around until early November. Then, the cozy sweater weather ends and the coats, sweaters, mittens, hats, boots come on. Winter can last from mid-November until early April.
What was the first thing you ever designed?
A shawl based on a texture in a rock wall in our neighborhood.
When you aren't knitting and designing, what are you doing?
I'm not supposed to be knitting all the time? I work in a group home setting for adults with mental illness which takes up most of my day. After work, I'm a mom, wife and Girl Scout Leader.
Do you do any other fibre-related crafts besides knitting? Crochet, spinning, weaving, sewing, quilting...
I knit exclusively. The spinning wheels are calling my name but I haven't given in yet.
Where can we find you and see more of your design work?
While I have a website and Facebook page for Normally Abnormal Knits, I'm most active on Instagram (normallyabnormalknits). My patterns can be found on Ravelry, Craftsy and Love Knitting.
Thank you Marie!

---
Leave a comment
---
Also in News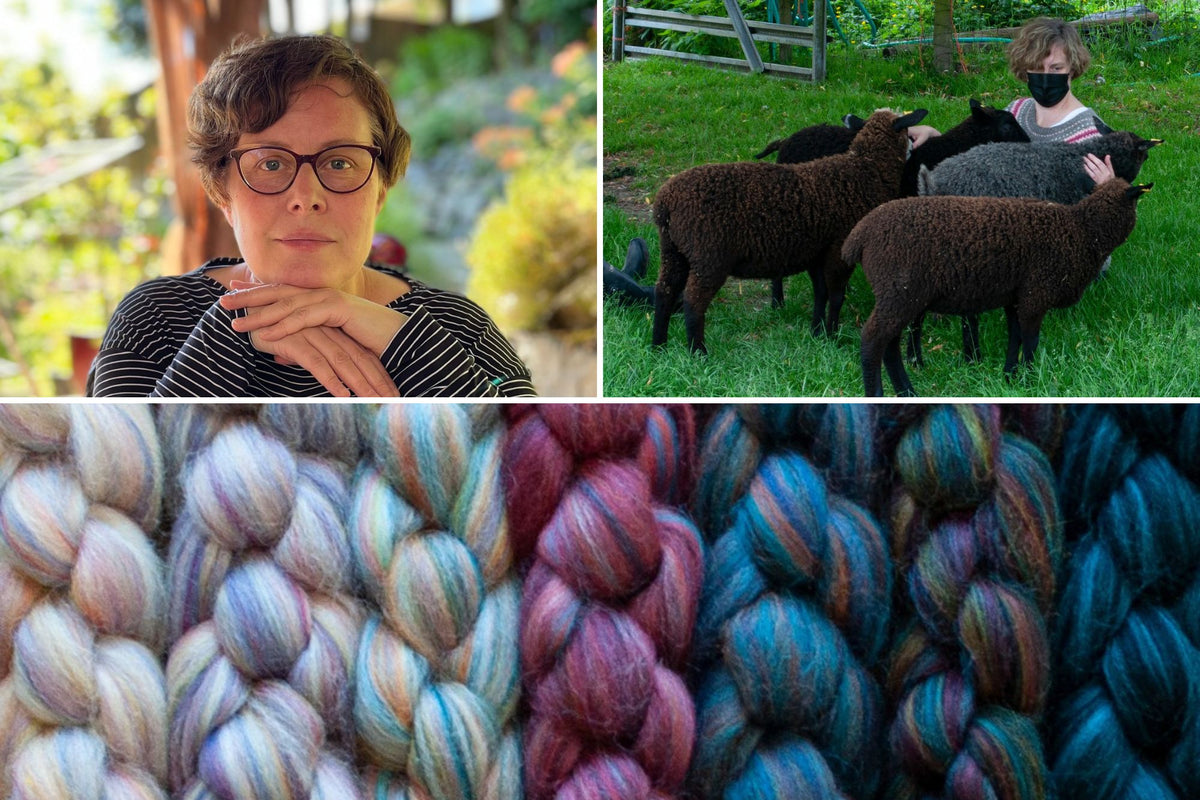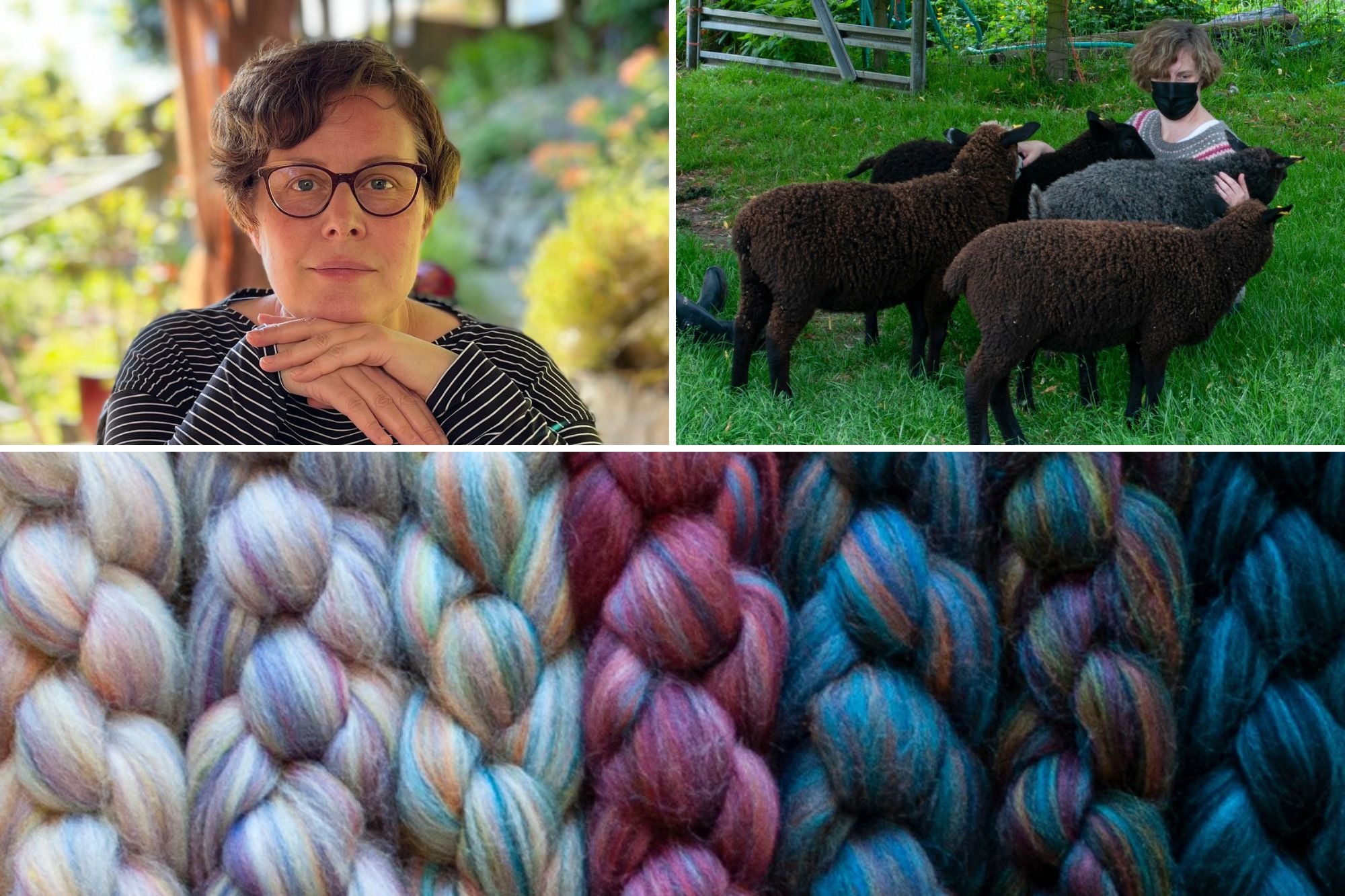 We first met Catherine Knutsson, our collaborator on the
Beyond Merino yarn club
, when she organized the Great Canadian Wool-Along last summer as a way to celebrate crafting with local materials and supporting Canadian wool farmers. We loved the concept of the wool-along, and jumped at the chance to connect with a community of Canadian wool-lovers.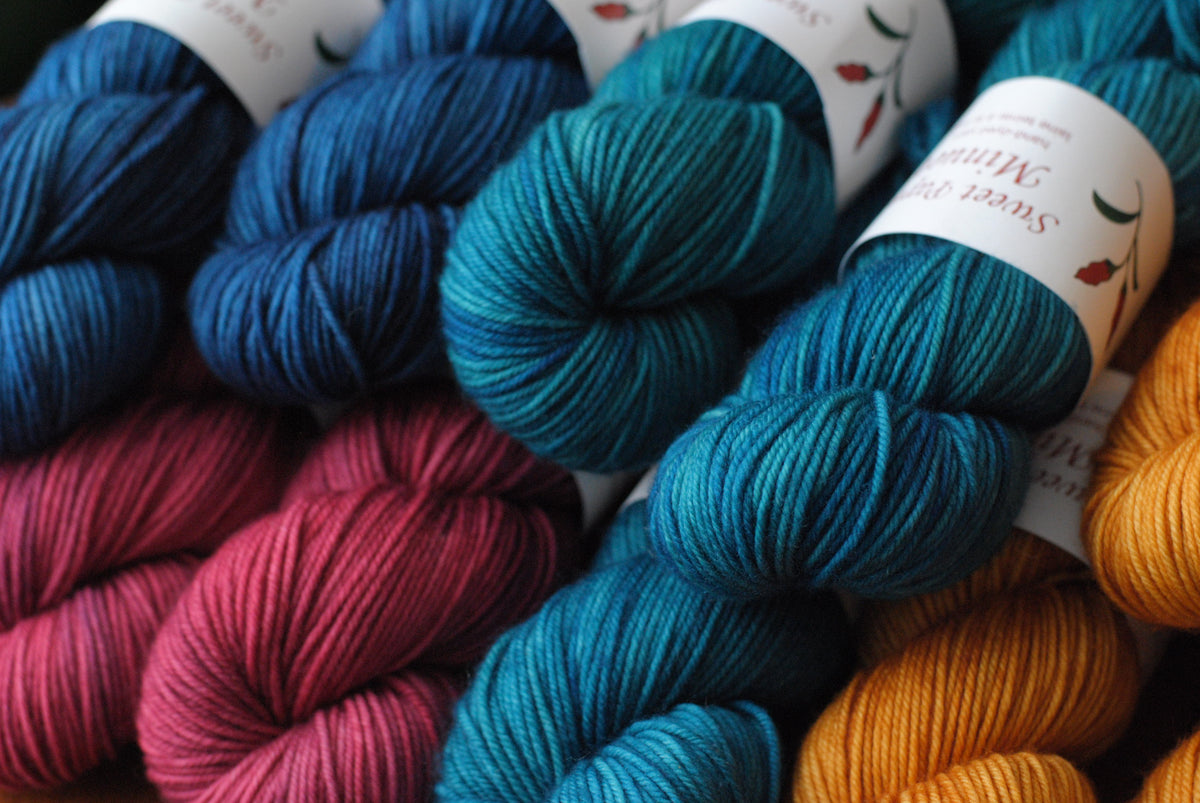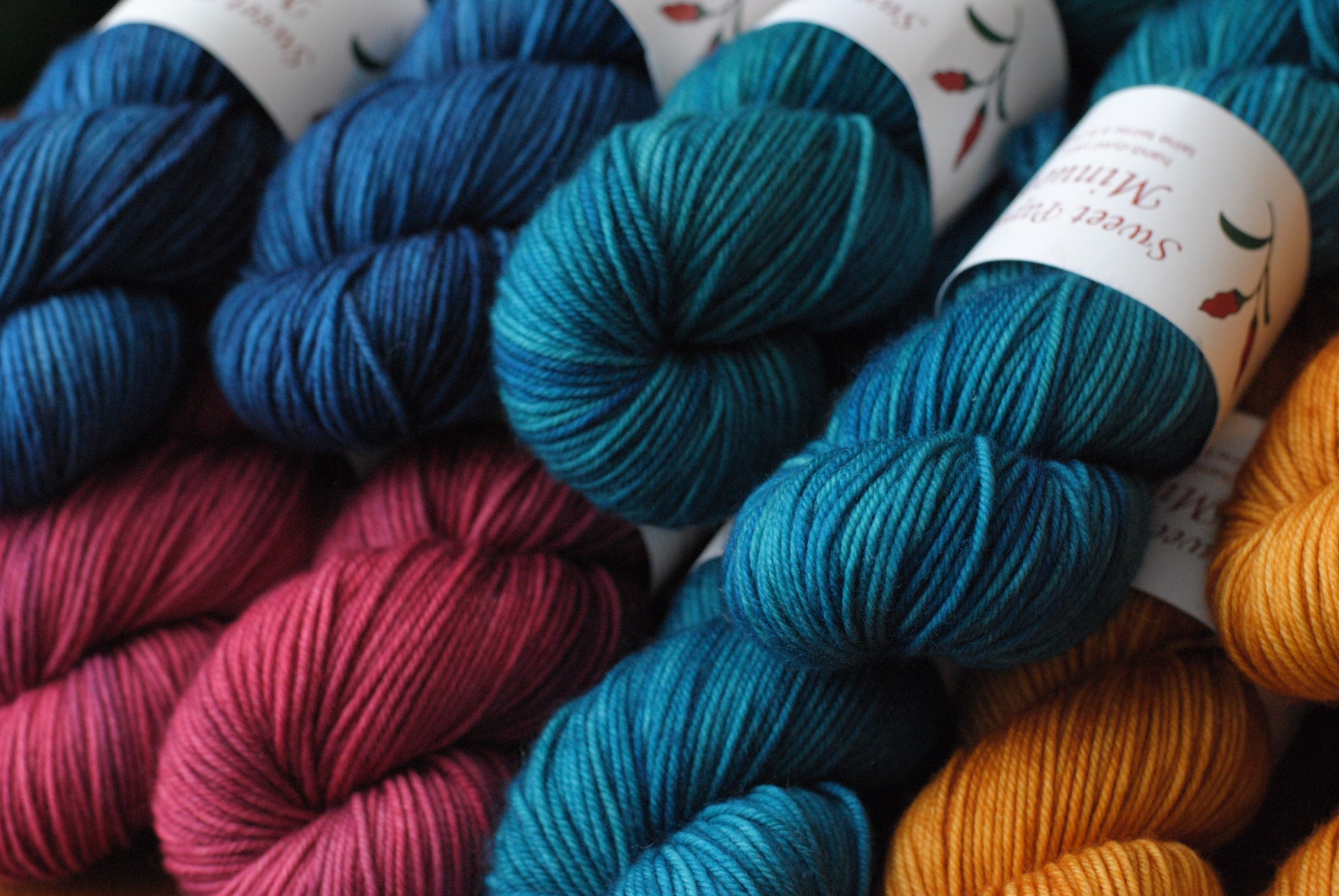 This year we're celebrating Sweet Paprika's 15th anniversary, and it's honestly been a bit hard to get my head around where the time has gone! We've been looking back through some of our old photos, and thought it would be fun to share a little retrospective here. Our little business has come a long way in the past 15 years!
Most of the images I'm including are not our polished product photos (although those have also come a long way since the early days), but more of a behind-the-scenes look at some of the memorable stepping stones along our journey.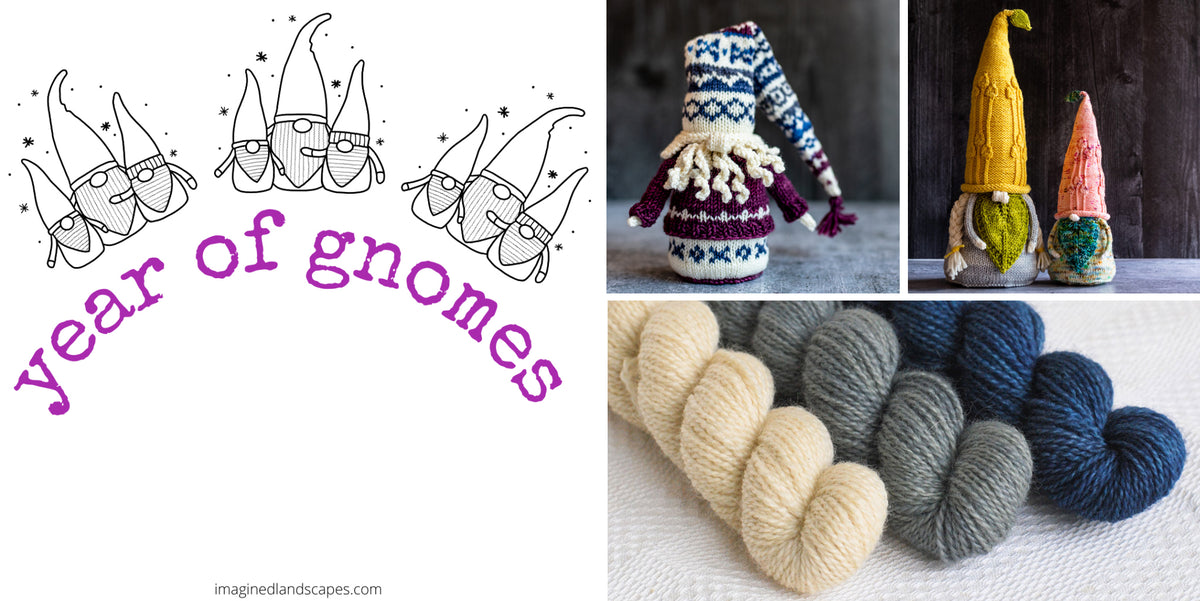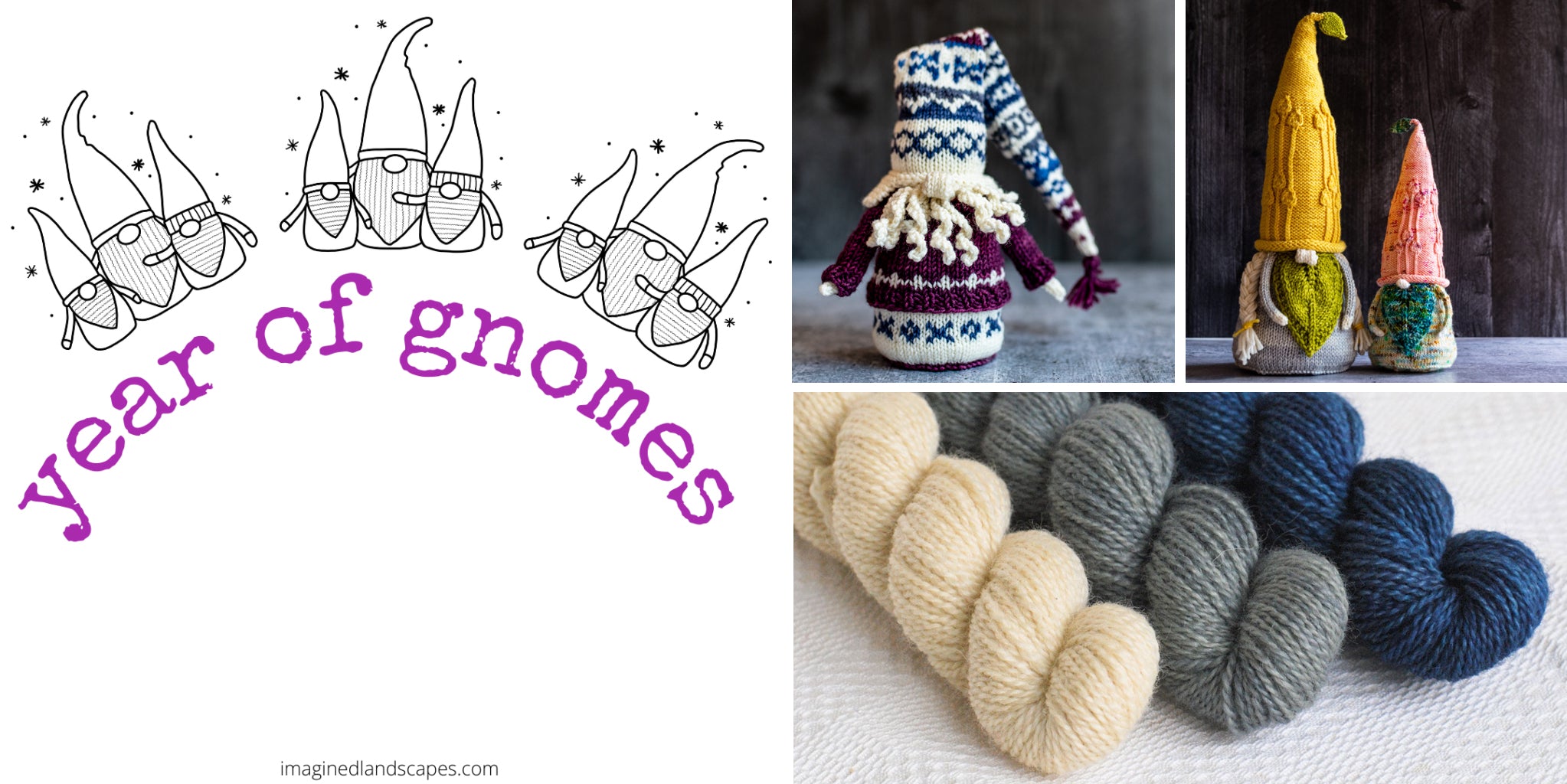 Last December, just as we were shutting down the dye studio for a holiday break, we got an email from one of our favourite customers telling us all about an upcoming event we might want to look into: the
Year of Gnomes Knit-Along
. We loved the idea, and couldn't resist joining in by dyeing up some mini-skein Gnome Sets for you to play with. We ordered in some special yarn as soon as we got back to work in January, and our
Gnome Sets
are now ready to head on out into the world!