Book Review: Modern Baby Knits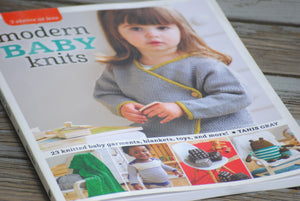 In the most recent batch of books that we were sent for review from Interweave was a copy of Modern Baby Knits by Tanis Gray. I jumped on this one because I seem to have a lot of friends expecting little ones these days, and was in the market for some fresh ideas for baby gifts.
The introduction promises designs that are "easy to knit and have fuss-free finishing, bright colors, easy-care fibers, and modern silhouettes" and the patterns following it definitely live up to this statement. I love that fun and simple colourwork is incorporated into many of the designs, and that a good proportion of them are gender neutral enough to work equally well for both boys and girls.
I was planning to knit gifts for a friend who is expecting twins, and decided that I would make something for them from the book as part of my review. One of my favourite patterns in the book is the Polka-Dot Pullover by Suvi Simola.
It looks super cute and I love the polka-dot detail on the pocket, but I decided that knitting two sweaters was a bit too ambitious... I also considered the Zigzag Vest by Helen Rose, which looks like a great way to incorporate a special skein of variegated yarn into a project, using bright colours against a neutral background for added zest.
But in the end I decided to be a bit more realistic about my available knitting time, and settled on a pair of hats, knit from the first pattern in the book: Fox Hat and Vest by Ekaterina Blanchard.
This is a quick and fun knit, cleverly using a chevron stripe pattern to create cute little fox faces. The pattern called for bulky or chunky yarn, but I knit the hats in our Staccato worsted weight merino using a slightly bigger needle size and they worked out fine. I used two different background colours so that the hats wouldn't be identical, and decided to embroider on the fox faces rather than using the buttons the pattern called for.
I started out making the 3 month size, but ended up switching to 9 months because it seemed a bit on the small side. I figure the babies won't need these until the fall anyway, and I'd rather they have room to grow into them... Since that size uses an odd number of chevron repeats, it wouldn't have worked quite so well to do a face on every 2nd chevron the way the pattern shows.
My solution was to just do one face per hat instead, which was also great because the face embroidery was more finicky than I thought it would be, trying to not make them cross-eyed! I'm very happy with the way the hats turned out though, and will definitely be referring to this book again next time I have a baby or two to knit for.
---
Leave a comment
---
Also in News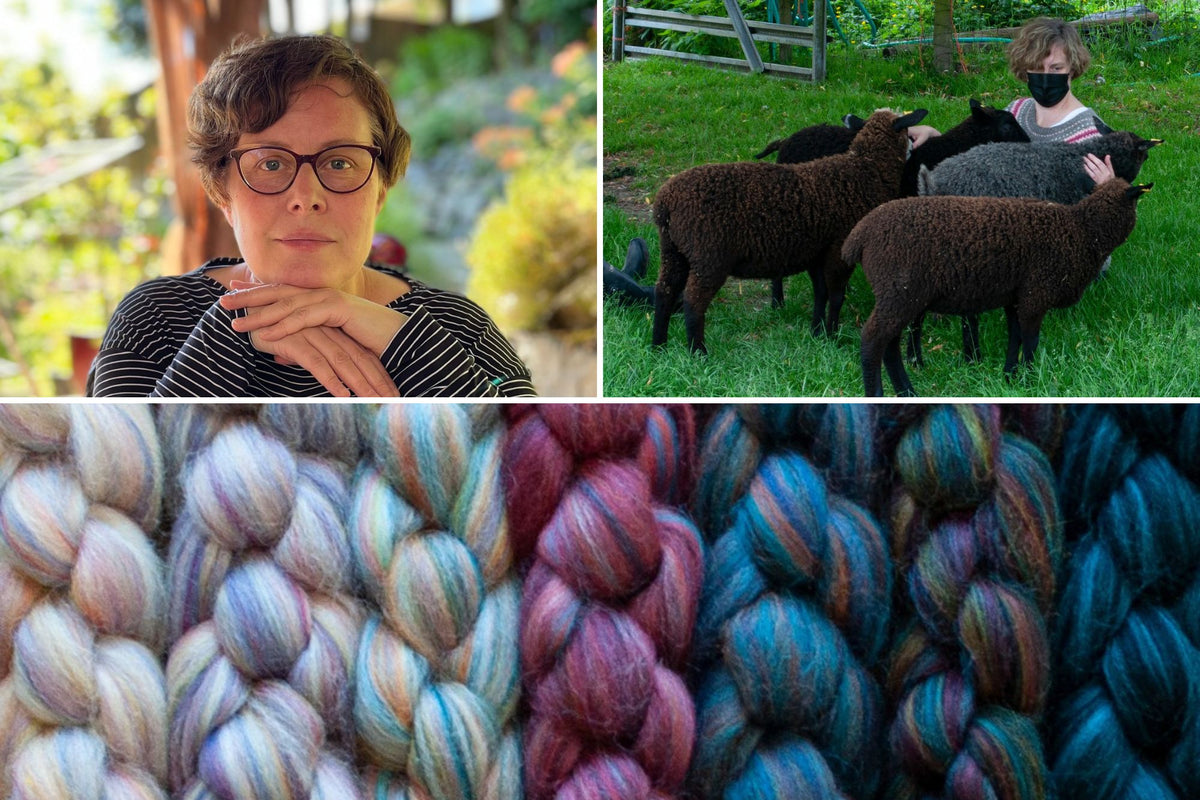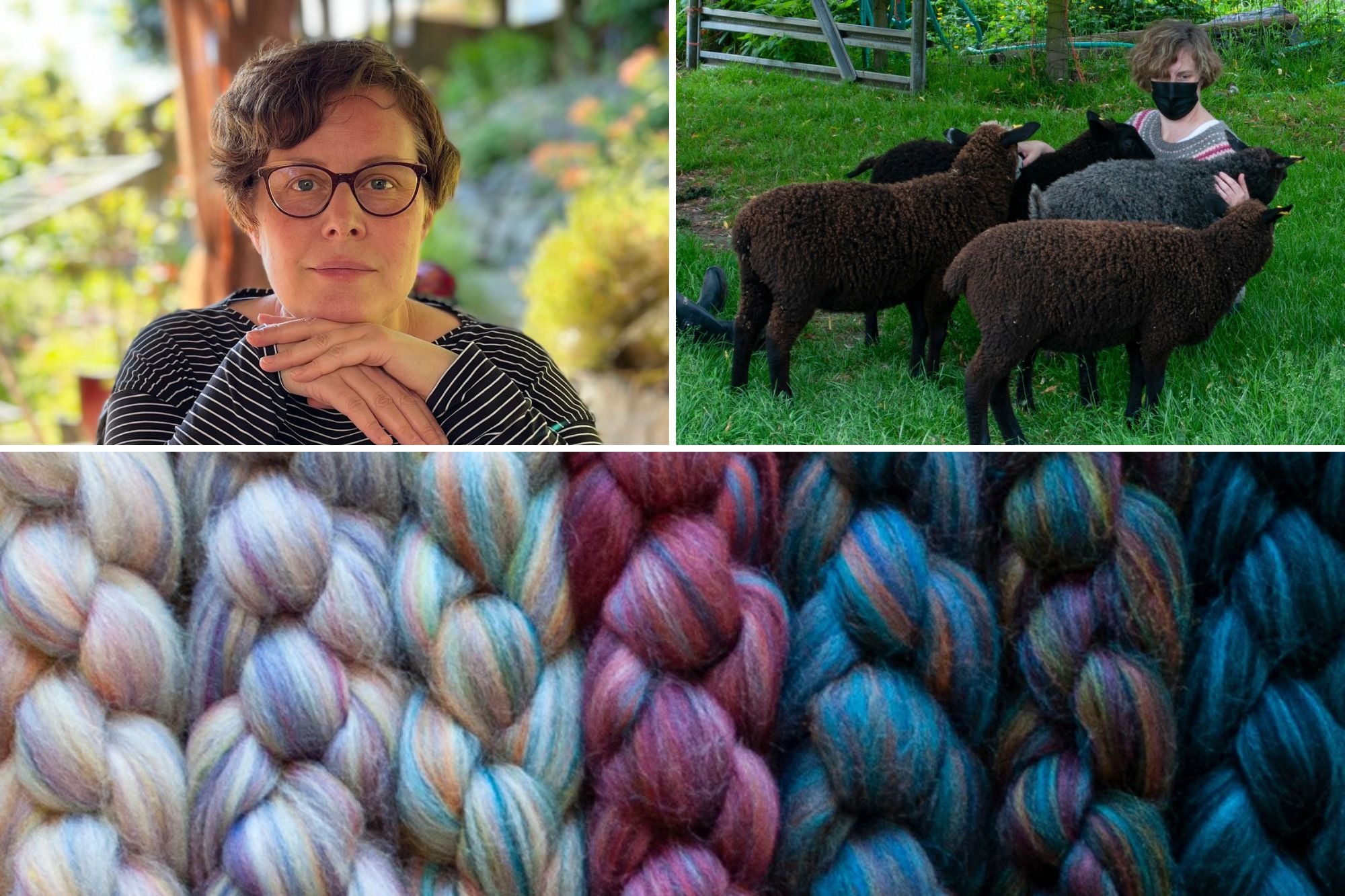 We first met Catherine Knutsson, our collaborator on the
Beyond Merino yarn club
, when she organized the Great Canadian Wool-Along last summer as a way to celebrate crafting with local materials and supporting Canadian wool farmers. We loved the concept of the wool-along, and jumped at the chance to connect with a community of Canadian wool-lovers.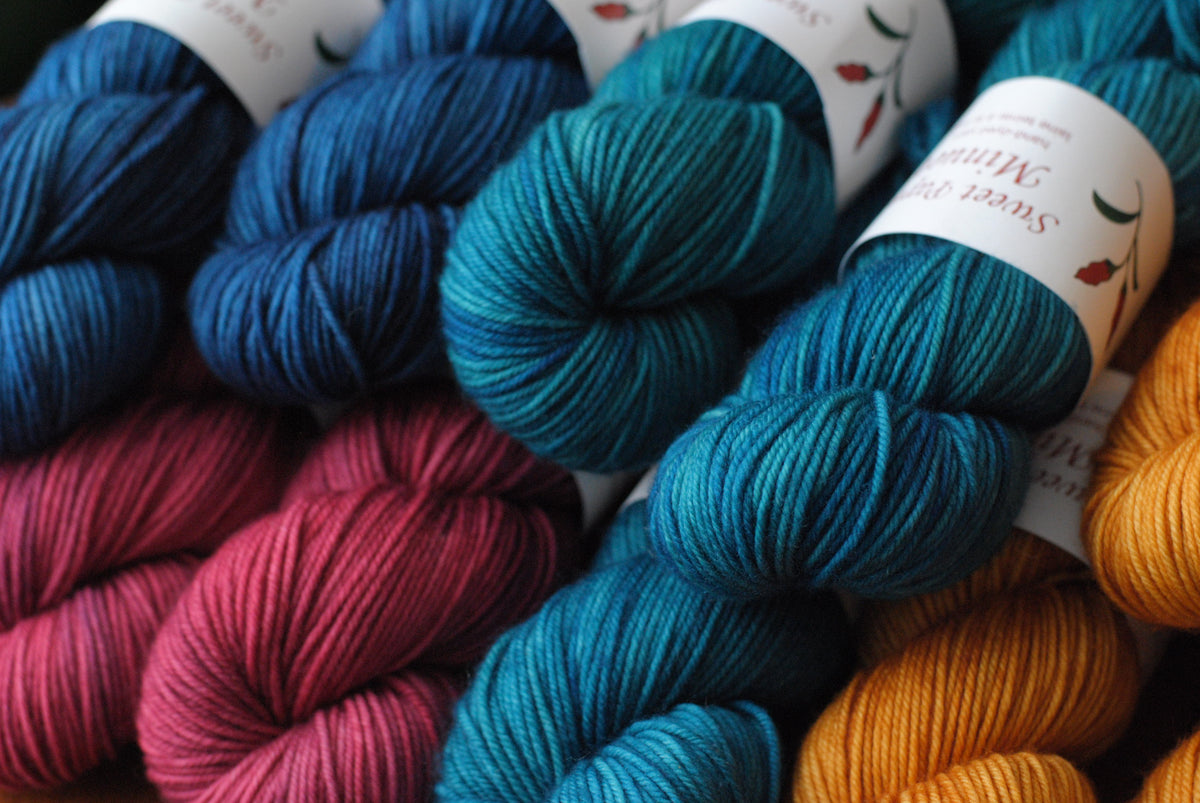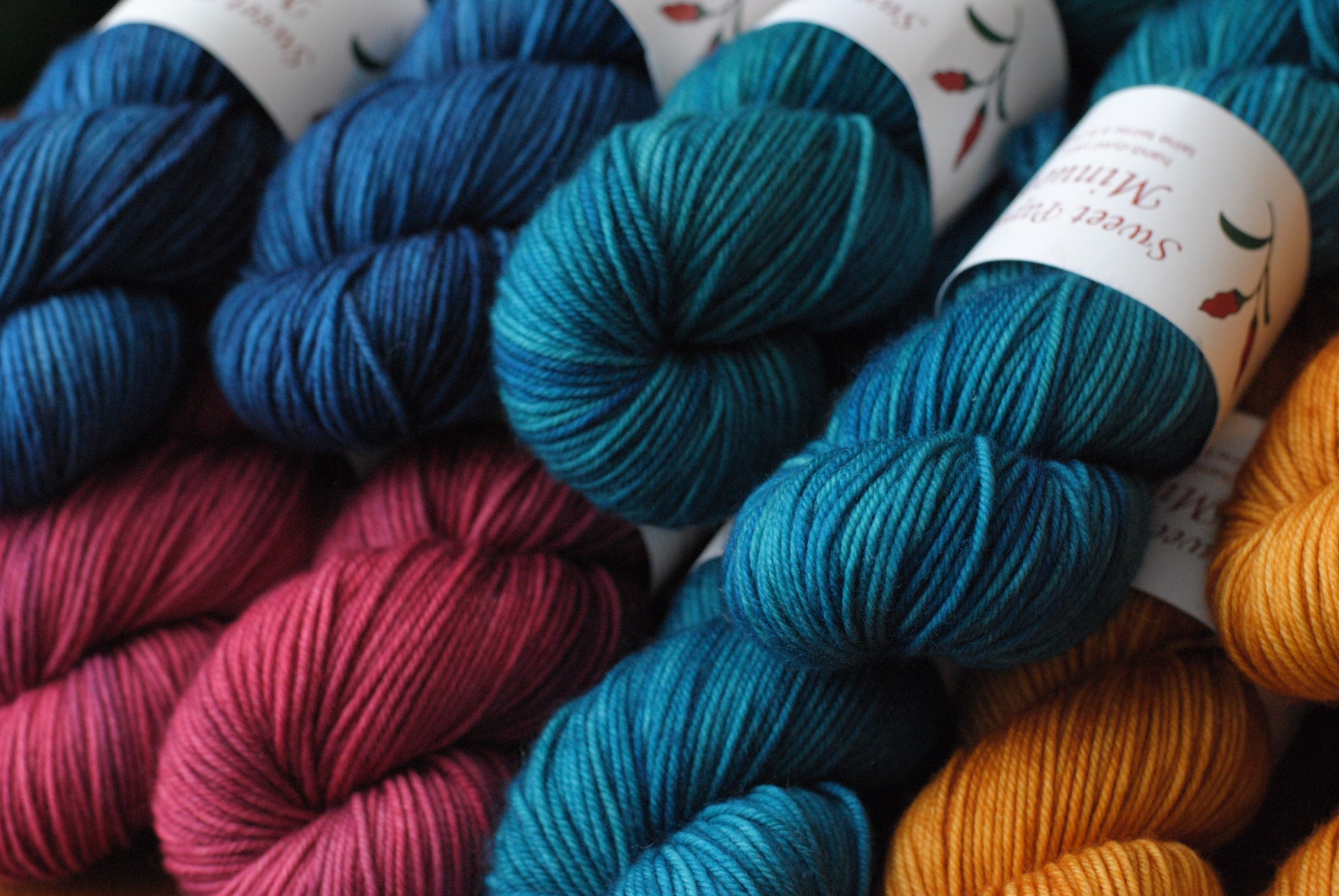 This year we're celebrating Sweet Paprika's 15th anniversary, and it's honestly been a bit hard to get my head around where the time has gone! We've been looking back through some of our old photos, and thought it would be fun to share a little retrospective here. Our little business has come a long way in the past 15 years!
Most of the images I'm including are not our polished product photos (although those have also come a long way since the early days), but more of a behind-the-scenes look at some of the memorable stepping stones along our journey.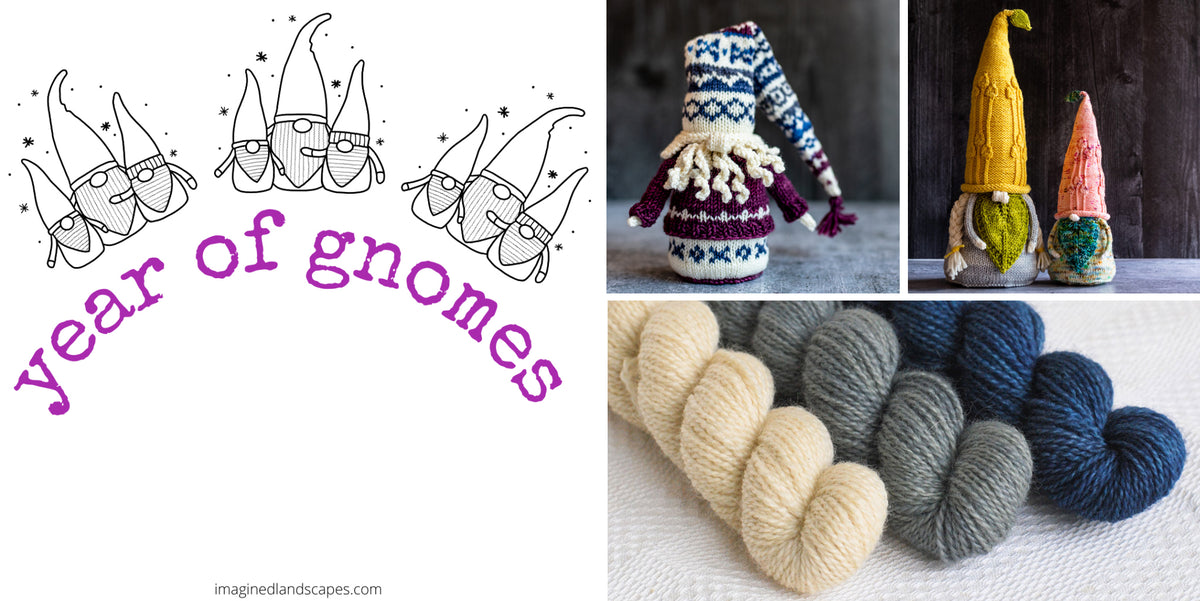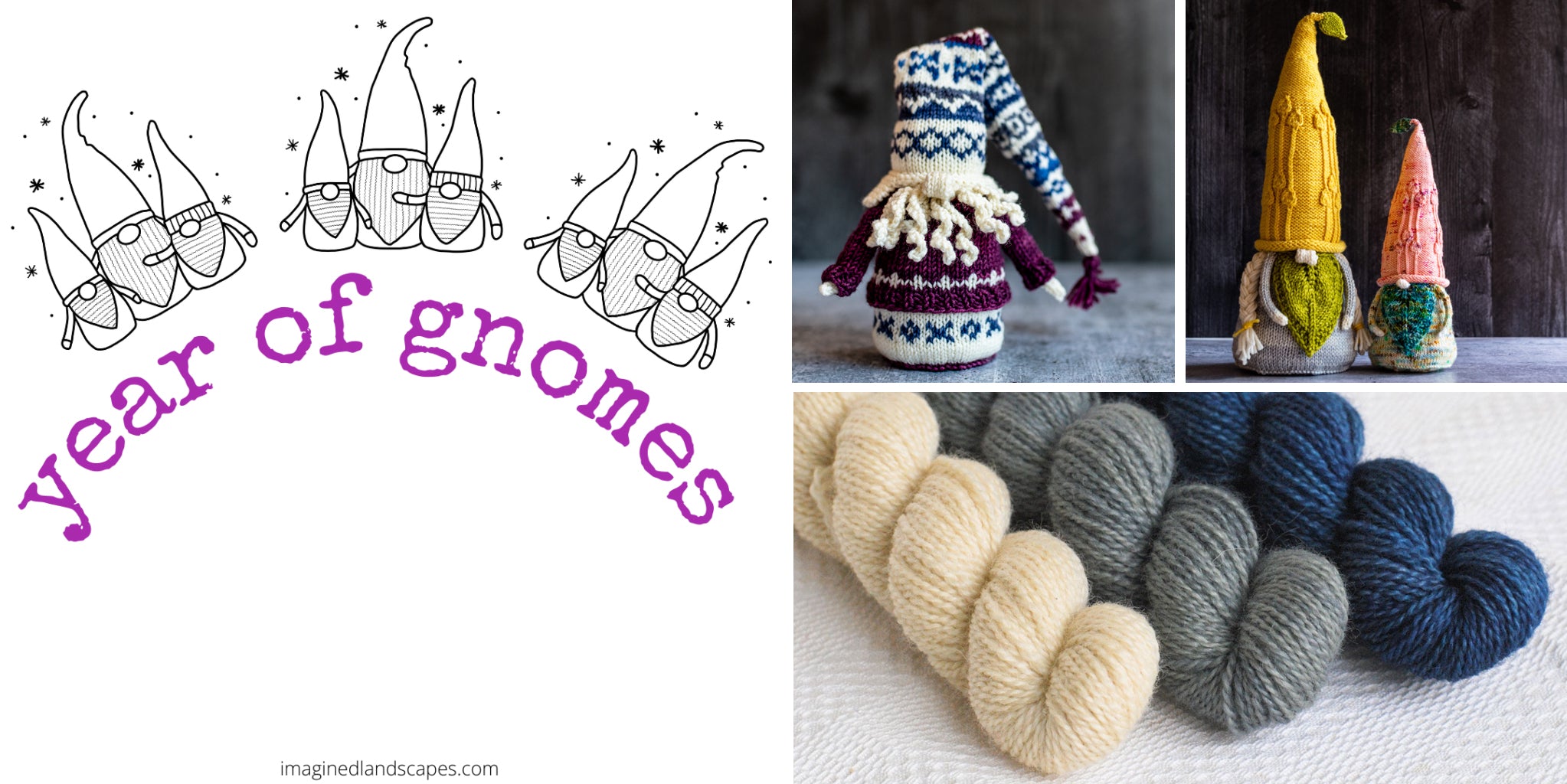 Last December, just as we were shutting down the dye studio for a holiday break, we got an email from one of our favourite customers telling us all about an upcoming event we might want to look into: the
Year of Gnomes Knit-Along
. We loved the idea, and couldn't resist joining in by dyeing up some mini-skein Gnome Sets for you to play with. We ordered in some special yarn as soon as we got back to work in January, and our
Gnome Sets
are now ready to head on out into the world!