Developing Gradient Sets - Part 1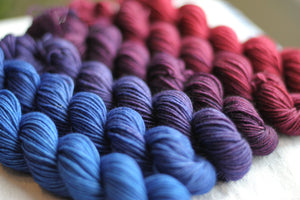 I've been spending some time this spring working on developing new gradient sets in our Crescendo yarn for a couple of different projects, and I thought it would be fun (and hopefully interesting!) to document the process here. 
The sets that I created last year when we first launched this yarn more or less fall into two different categories. There are some where the change from skein to skein is a shift in the intensity of one colour, from pale to deep, such as this Pretty in Pink set.
Dyers refer to this intensity as "Depth of Shade" and it's usually calculated as a percentage of dry dye powder to the amount of fibre dyed, measured by weight. So, for this type of gradient my development technique is to create the base dye mix for the deepest colour, and then dilute it carefully to acheive the paler shades, aiming to have as smooth a transition as possible between each skein. 
The second category that I often work with is sets where the change from skein to skein is in the hue rather than the intensity of colour, such as this Gaia set which shifts from blue to brown. 
These tend to be a bit more complex to create, as some dye colours are stronger than others, so getting the right dye proportions can be trickier. I start with two different base dye colours (in this case blue and brown), and then vary the percentage of each used in each skein. You may notice that the intensity of the colour (the depth of shade) is actually almost exactly the same for each of the skeins in this set. The amount of dye used is consistent, I've just changed the proportions of the two colours. 
During the development process I tend to make very scribbly notes in my dyeing notebook, trying to keep track of any adjustments to my plans that I make as I see what the dye actually looks like on the yarn. I find it's helpful to start out by making a theoretical plan according to what I think will work, but it always needs tweaking as I go to get exactly the right shades and proportions. 
Then, once my tweaking is done, I translate all those scribbly notes into a recipe! I try to keep things as clear and consistent as possible so that our recipes can be followed by anyone in the studio with consistent results. 
One of my gradient projects this spring has been to develop a new Crescendo set to bring with us to the Toronto Knitter's Frolic. I knew that I wanted to do one of the second type of gradient, and that I wanted to work with reds and blues. I was inspired by these tests that I did as part of a Dyer's Notebook workshop last year, showing the range of colours created by mixing sapphire and crimson in different proportions. 
So I scribbled some new notes into my trusty notebook...
Mixed up my dyes...
And voila!
Because I was working with two dye colours that I use very frequently I was able to predict how they would behave enough that this recipe needed only a little bit of nudging as I worked. 
UPDATE: This was originally a limited-edition colourway, which we dyed exclusively for the 2018 Toronto Knitter's Frolic. BUT, we recently had some renewed interest in it, and as of March 2021 we've added it into our regular line-up! We've called this colourway "True Love" and if you've fallen for it too you can purchase your set here.
---
3 Responses
Leave a comment
---
Also in News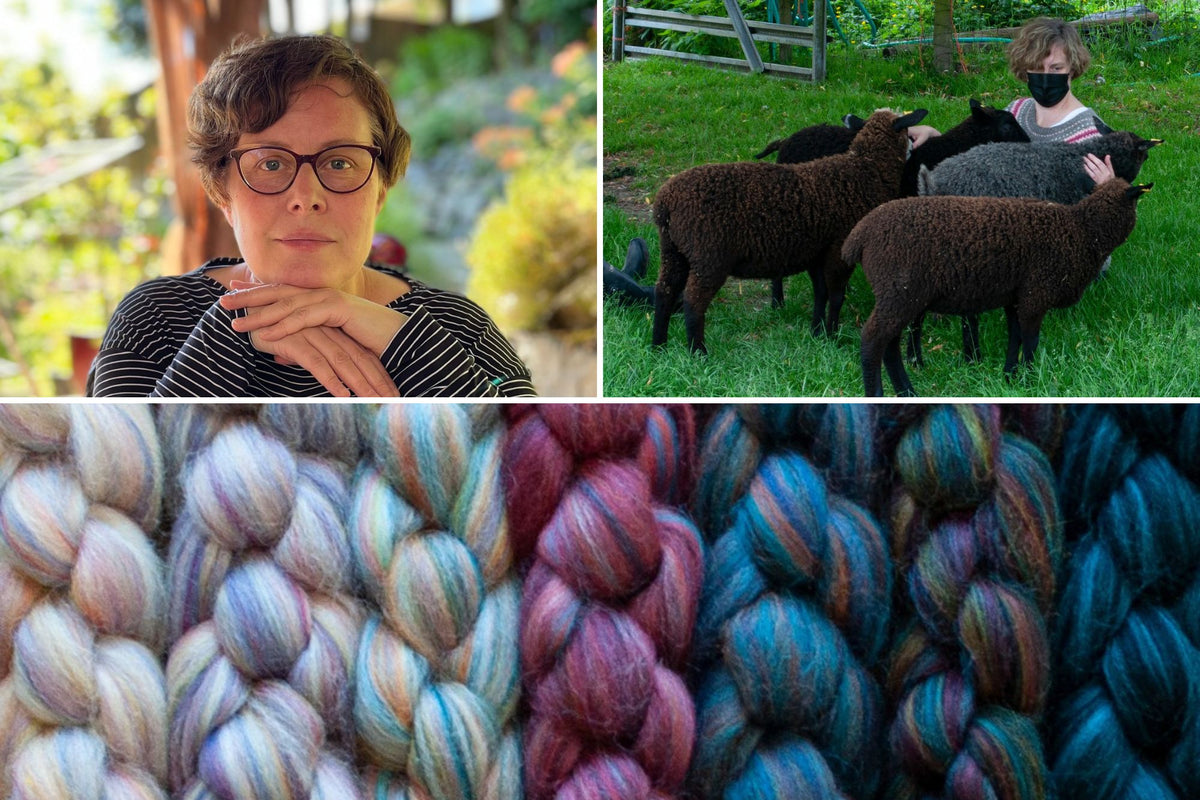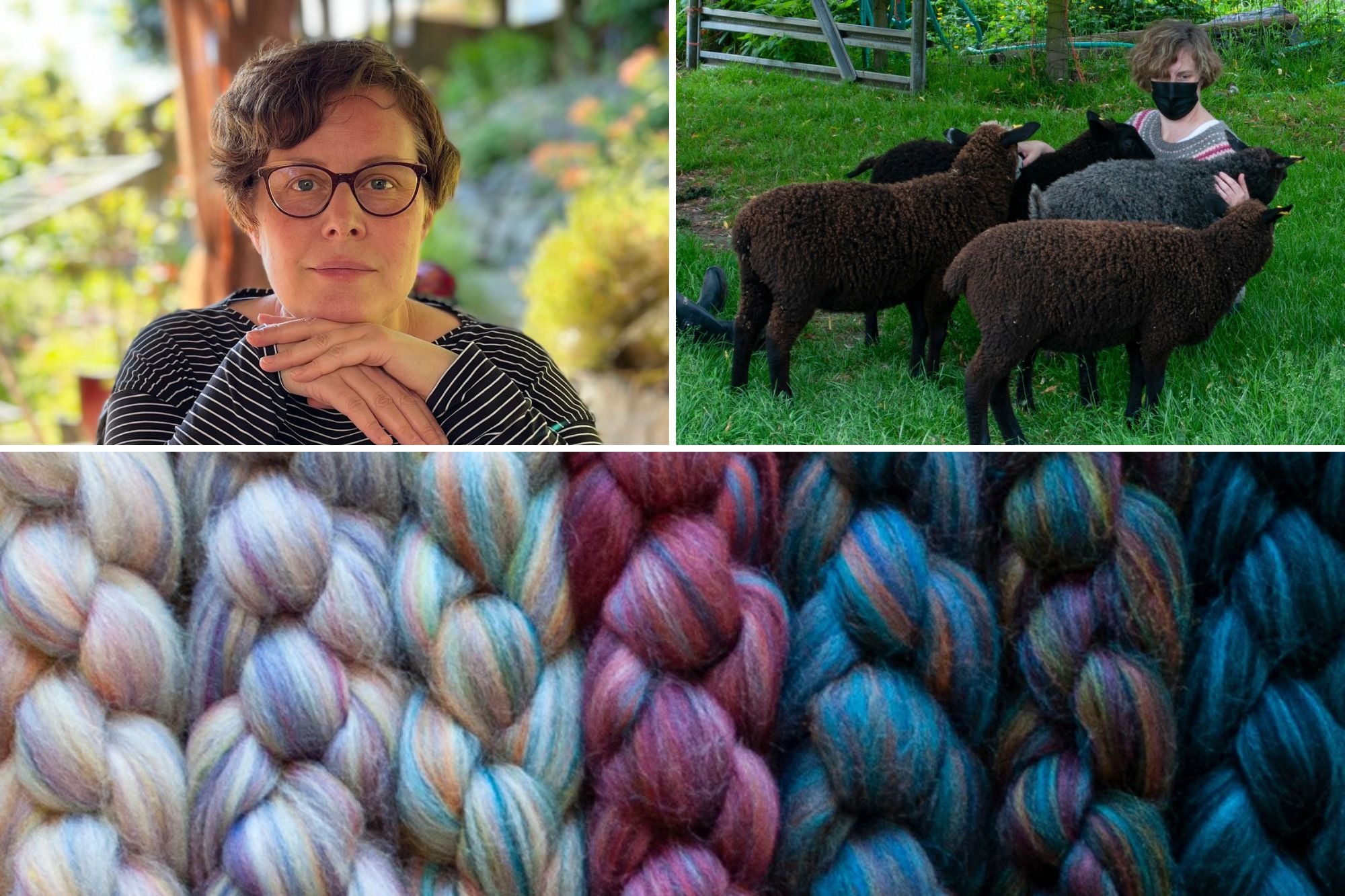 We first met Catherine Knutsson, our collaborator on the
Beyond Merino yarn club
, when she organized the Great Canadian Wool-Along last summer as a way to celebrate crafting with local materials and supporting Canadian wool farmers. We loved the concept of the wool-along, and jumped at the chance to connect with a community of Canadian wool-lovers.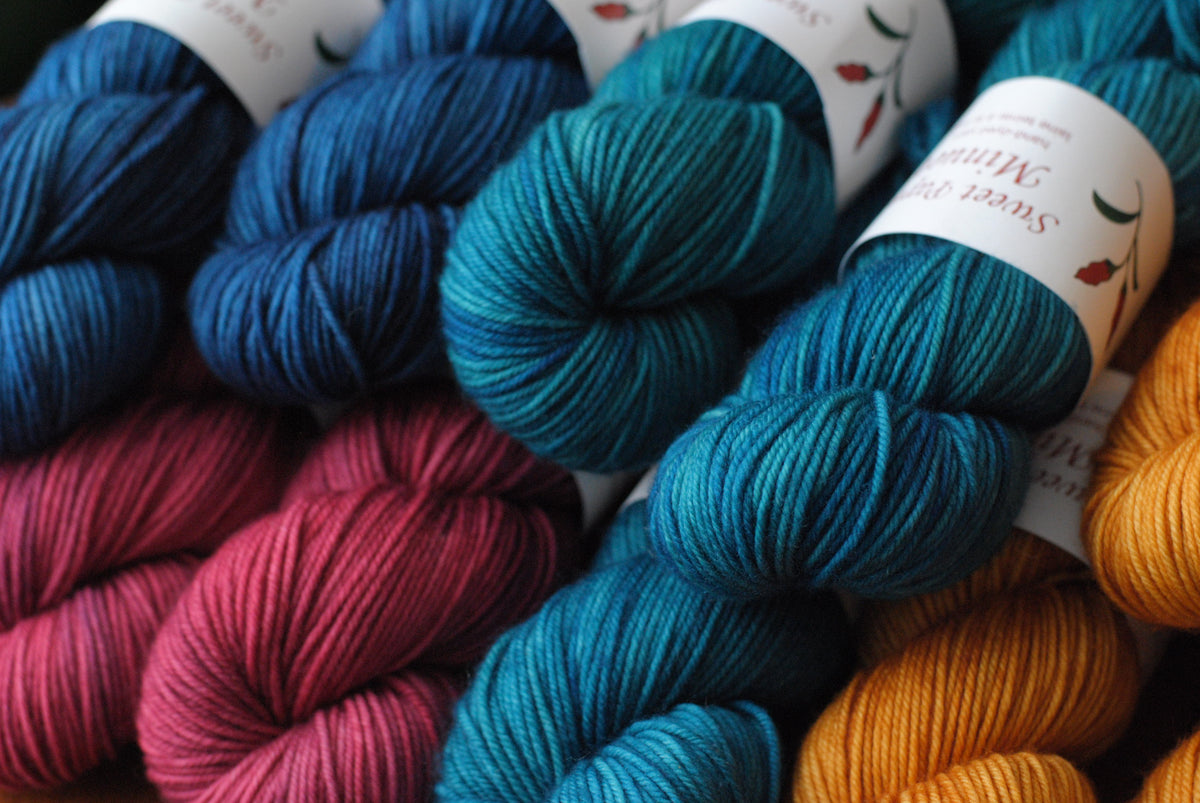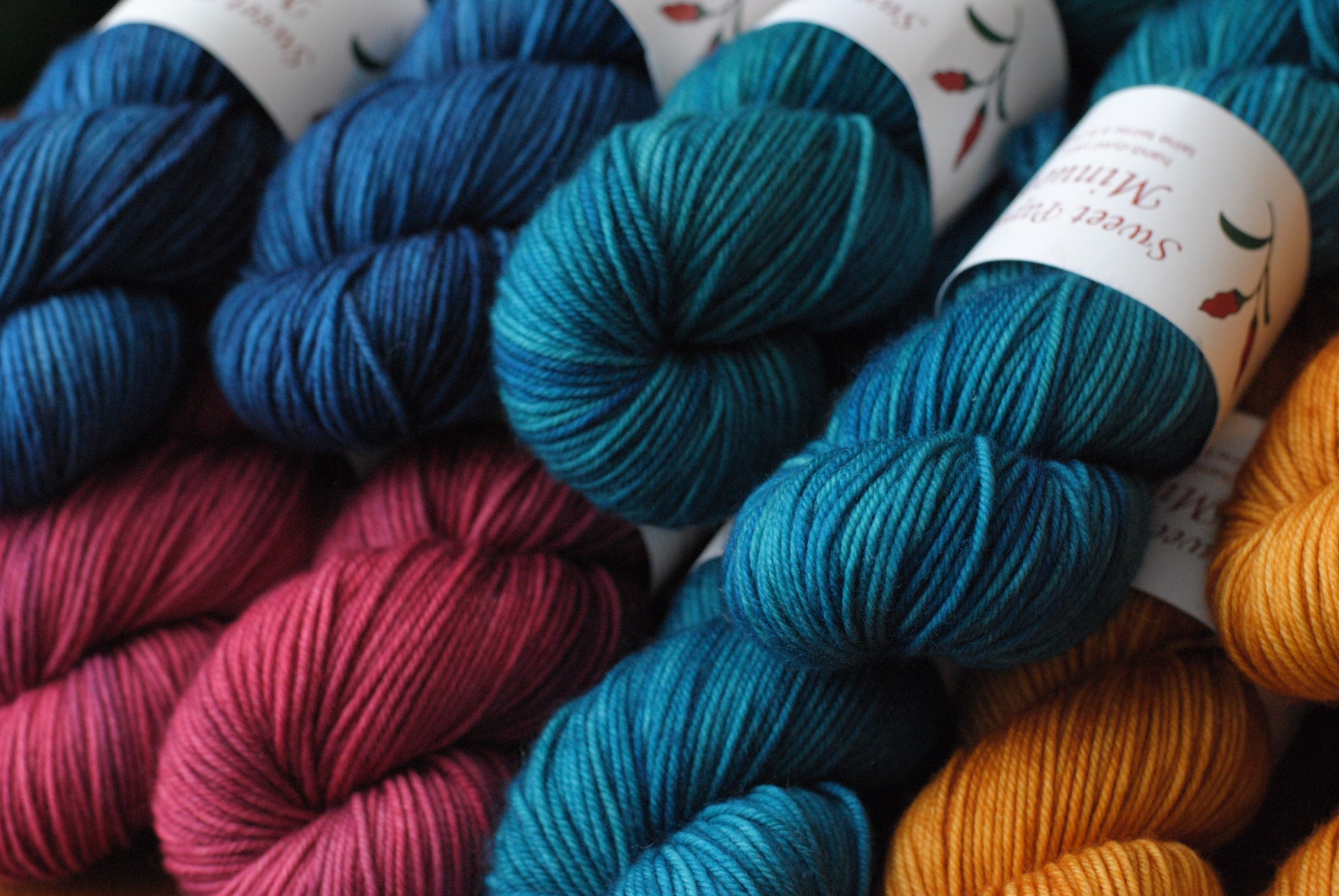 This year we're celebrating Sweet Paprika's 15th anniversary, and it's honestly been a bit hard to get my head around where the time has gone! We've been looking back through some of our old photos, and thought it would be fun to share a little retrospective here. Our little business has come a long way in the past 15 years!
Most of the images I'm including are not our polished product photos (although those have also come a long way since the early days), but more of a behind-the-scenes look at some of the memorable stepping stones along our journey.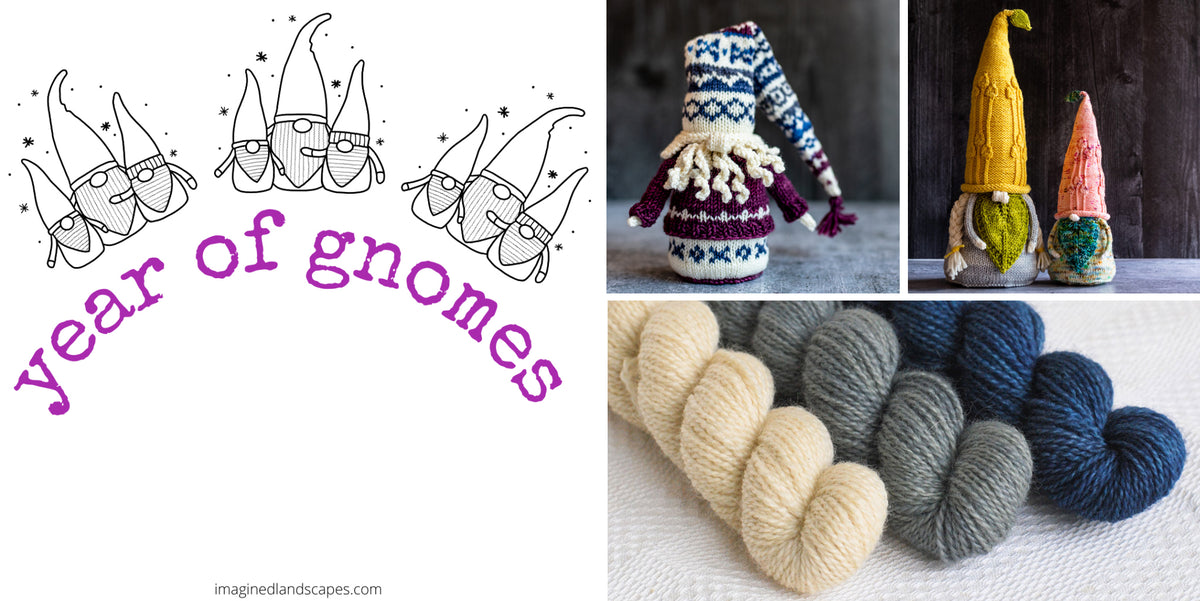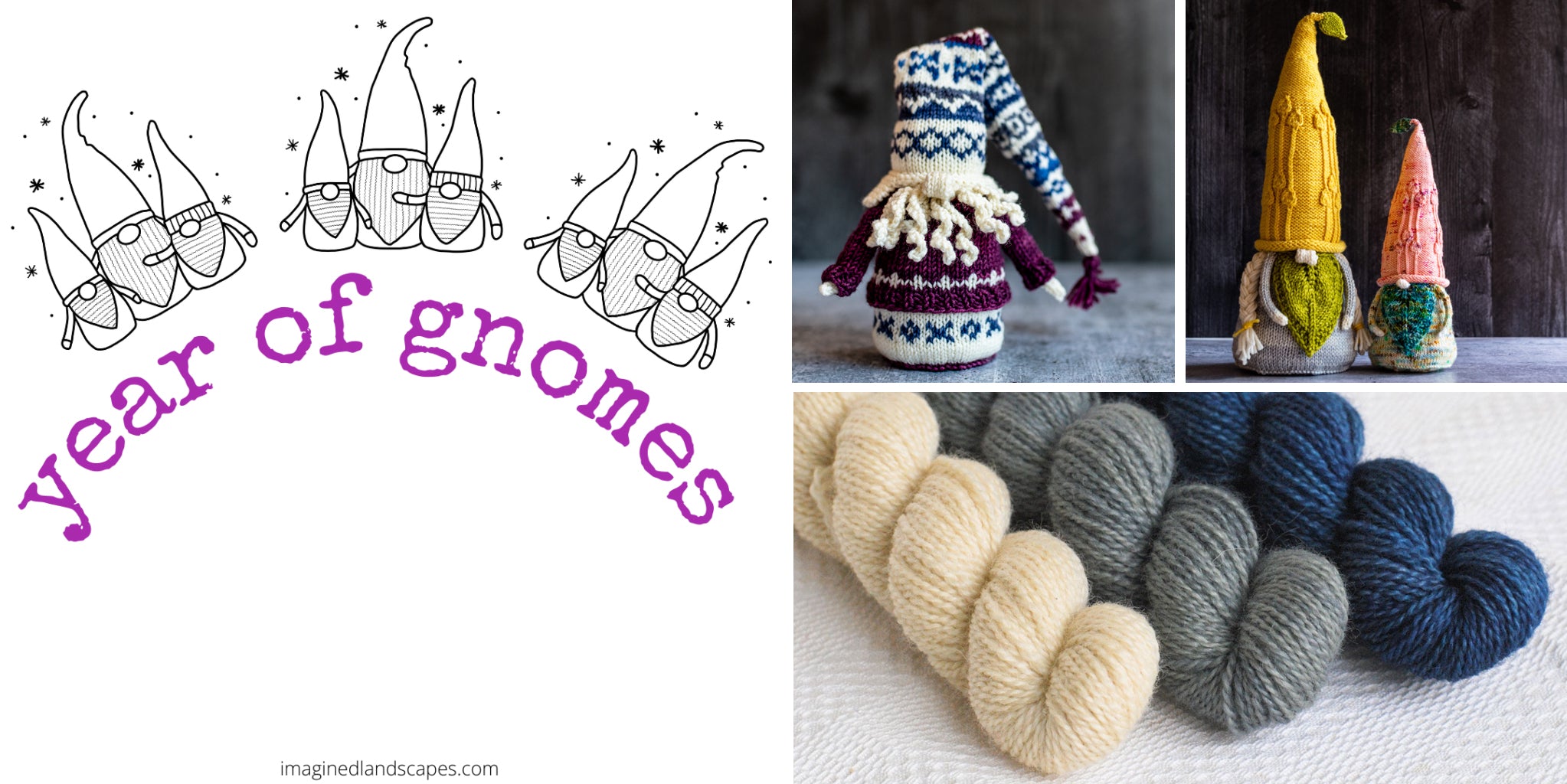 Last December, just as we were shutting down the dye studio for a holiday break, we got an email from one of our favourite customers telling us all about an upcoming event we might want to look into: the
Year of Gnomes Knit-Along
. We loved the idea, and couldn't resist joining in by dyeing up some mini-skein Gnome Sets for you to play with. We ordered in some special yarn as soon as we got back to work in January, and our
Gnome Sets
are now ready to head on out into the world!